FANTASY SPORTS SOFTWARE DEVELOPMENT
We help you to discover an unparalleled fantasy sports experience and provide you with the best software solutions and help you to convert it into a thriving business!
FANTASY SPORTS SOFTWARE SOLUTIONS
With the exponential increase in fantasy sports buffs worldwide, online fantasy sports platforms have become one of the most promising industries ever. Our expert team of developers help you build your fantasy sports software, quickly and easily. Our fantasy sports software comes wrapped with trending features and popular sports.
At Tecpinion, we design, strategize, and create experiences that people love with our expertise and experience in fantasy sports software development services. Keeping your target audience in mind, we develop a customised, Sturdy, and engaging fantasy sports solution that enables you to take a step ahead in the industry and launch your business.

Fantasy Sports Projects Delivered​
FANTASY SPORTS GAMING PLATFORM
Our motive is to offer top-class fantasy sports gaming platforms to our clients. Our team works dedicatedly for your project and ensures that you get the most immersive and innovative solutions for the gaming business.
WHITE LABEL FANTASY SPORTS SOFTWARE
Avail our completely designed and feature enriched turnkey fantasy sports application which is all set to launch you in the business with a lead. The white label application is ready-made to save your time so that you can utilize it on other important steps like launching and marketing. Our pre-designed app provides a great gaming experience with hassle-free management from the backend. The app is on par with the industry standards and is augmented with payment methods. It also has integrated social media channels for fan engagement. With us, you get a complete application which is smart, robust, easily manageable, and ideal for your business needs.
15+ Sports Covered
H2H, League, Guaranteed, Multi-entry contests
Ready-Made Solution
Quick Time to Market
Integrated with High-End Features
CUSTOM FANTASY SPORTS SOFTWARE DEVELOPMENT APPLICATION
Your idea of a fantasy sports platform could turn into a business worth millions of revenue. If you wish to have your own unique and custom fantasy sports platform, then we are here to transform your idea into reality. Right from ideation to designing and from development to testing, you get a completely customised fantasy sports design and development with an amazing user experience. Whether it is cricket, soccer, baseball or any other sport away from the mainstream, our expert team crafts the most feature-enriched first-rated custom fantasy sports platform.
Custom Design & Feature Development
Intellectual Property & Source Code Ownership
Dedicated Project Management Team
Custom Draft Types
Fantasy on your preferred Sports, leagues, eSports & events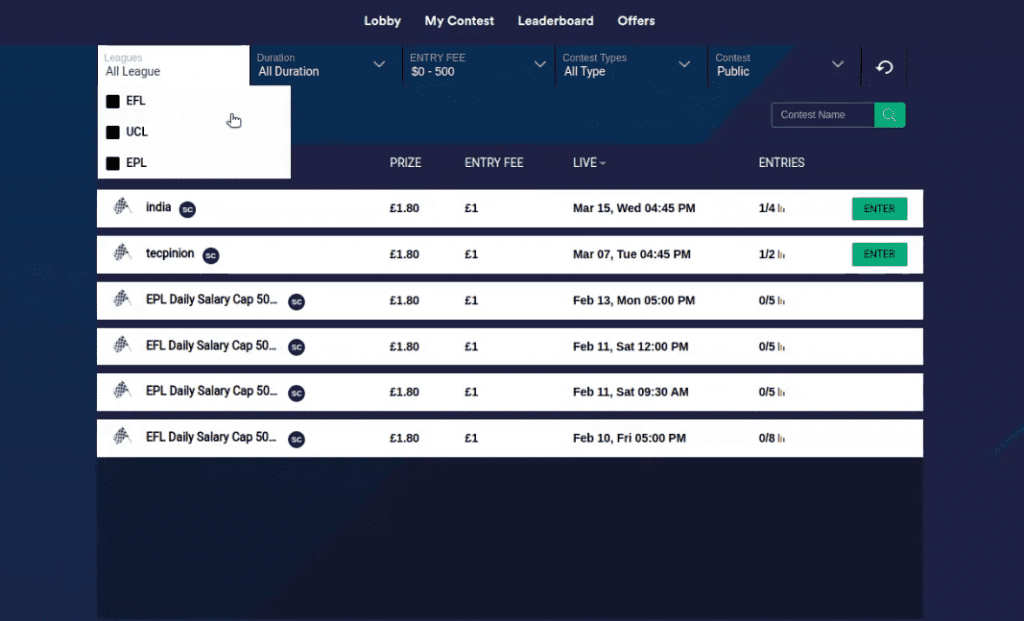 OUR FANTASY SPORTS BETTING SOFTWARE
We provide top-notch online fantasy sports development services. We design, develop, and customize fantasy sports betting software based on market demand and business requirements. We provide the one-stop solution for all online fantasy sports development services.
Daily Fantasy Sports
Software Development
DFS has taken the fantasy sports industry to a rapid bloom. With its user-oriented structure and winsome payout system, DFS provides the feeling of instant satisfaction to its players. At Tecpinion, we provide you with first-rate daily fantasy sports software solutions based on multiple sports and all major leagues.
Weekly and Custom Fantasy Sports
The weekly fantasy sports format engages both, the professional players as well as the beginners. We enable you to design and develop application based on sports and leagues of your choice in which the results are declared weekly or as per your choice.
Season-long Fantasy Sports
We have a team which is expert in developing fantasy sports application based on the traditional or Dynasty format. The season-long format has always been the first choice of the pros. We develop season-long fantasy sports based on NFL, MLB, NBA, NHL and MLS in which the players draft their team through live draft, auction draft or offline draft.
OUR CUSTOM FANTASY SPORTS SOFTWARE DEVELOPMENT SERVICES FOR All MAJOR SPORTS
Premier League Fantasy Platform
We have a team that excels in designing and developing fantasy sports software based on Premier League. Being one of the leading professional sports league, the Premier League has an immense number of followers. Our fantasy premier league software stands out from the rest
Fantasy Soccer Software Provider
Our fantasy soccer software if beautifully designed, robust and feature enriched to suit all your needs. We not only cover all popular leagues like EPL and but also extensive FIFA events like the FIFA World Cup and Confederation Cup to engage soccer fans.
Fantasy Football Software Developer
We excel in the designing and development of fantasy football software. Covering a variety of football leagues like NFL, we create a complete application which provides amazing user experience and exciting gameplay.
Fantasy Rugby Software Developer
We specialize in creating revenue-focused fantasy rugby software for immense user engagement. Including every major rugby league and events, our fantasy rugby software is all set to appeal to the professional experts as well as amateurs.
Fantasy Baseball Software Designer
We provide completely customized and feature-rich fantasy baseball software to suit all your business needs. Based on multiple international baseball leagues and events like MLB, National League, and World Baseball Classics, our software is a complete package of everything that you need.
KEY FEATURES OF FANTASY SPORTS DEVELOPMENT
Multiple Fantasy Sports Drafts
Salary Cap, Pick-em, Traditional Snake Draft, Premier League Type Draft, Auction Draft, Dynasty Leagues, Live Draft fantasy, Offline Draft
Easy to Use Dashboard/Lobby
Selecting the contest becomes easier with filters by sports, leagues and game types. Sorting the fantasy contests by entry fees, no. of entries, winning etc.
Fantasy Sports
Contest Page
Click on a contest to see all the details about the contest like entry fees, winning prize structure, and other rules of the fantasy contest,
Build a growing community of players online with features like chats, groups, discussions, invitations and much more. Create a strong network on your platform with social gaming and in-app communication.
OTHER FANTASY
SPORTS
FEATURES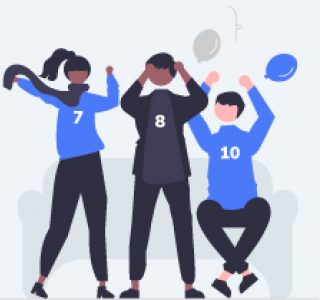 HIRE FANTASY SPORTS SOFTWARE DEVELOPERS
FANTASY SPORTS SOFTWARE DEVELOPMENT
We deliver beautifully designed applications based on top-notch technology and compatible with multiple platforms. Avail your own custom or white label Fantasy Sports Application.
FANTASY DRAFT SOFTWARE DEVELOPMENT
You provide you with multiple draft options so that you can create your own live contests, auctions, bids and integrate third-party applications live chat. Customize your Fantasy Sports Platform with our Fantasy Draft Software.
FANTASY SPORTS WEBSITE DEVELOPMENT
We help you to increase your user engagement, fan interaction and enhance customer relationships. Get a website completely dedicated to your Fantasy Sports Platform.
FANTASY SPORTS MOBILE APP DEVELOPMENT
We develop robust and highly interactive Fantasy Sports Mobile Applications. We provide you with both native and hybrid mobile application to suit your requirement. Build an immense user engagement with our fantasy sports mobile application.
FANTASY SPORTS PLATFORM ANALYTICS
We empower you to analyze user behaviors and optimize your business to multiply the revenue. Get a powerful analytic software program for in-depth analysis of your players to enhance the overall gaming experience for your users.
FANTASY SPORTS AUGMENTED REALITY
We enable you to take a leap ahead by providing a terrific gaming experience to your players with our AR solutions. Start on the higher level by launching your own Fantasy Sports Platform integrated with Augmented Reality.
FANTASY SPORTS GAME DEVELOPMENT QUESTIONS?